Mobile Apps – The Smart Way to Connect with Users
From maps to astrology to home remedies to managing expenses, everything is in the palm of your hands thanks to apps. If web is credited with making the world come closer, then mobile apps have brought information to our doorstep or fingertips.
The rising star – Mobile Internet
In 2013, there were 200 million internet users and by 2017 these users are projected to be over 500 million. And this figure includes 314 million internet users. According to IAMAI and KPMG projections, India will have 236 million mobile internet users by 2016.
These astounding figures are a clear indication that mobile has brought internet to all. After all, India has the world's 3rd largest internet user base and mobile internet users are more than 50 per cent of them. Not surprising since the number of mobile phone owners is greater than PC owners.
Why using smartphone is smart for consumers
A smartphone is handy. And it brings the world in our palms. Says Delhi based Sanjay, a marketing executive in an ad agency, "I use my phone for banking and sms and videos. So convenient and saves time. What's more, I'm connected even while I'm on the go." Many users would nod their head in consent at this benefit of smartphone thanks to the apps. Adding to the popularity of mobile internet is the fact that you have affordable handsets, lucrative data plans and supportive vernacular content. Does it come as a surprise then that India is world's 3rd largest smartphone market?
In a Nutshell
Talking of mobile apps, if you want to develop apps that click instantly with consumers, trust www.909digital.com to do the spadework for you since the company has the expertise on Android, iPhone and iPad app development.
So, make the most of apps with the right app-roach and tap on the smartphone market.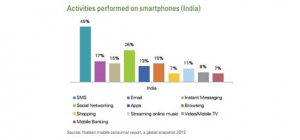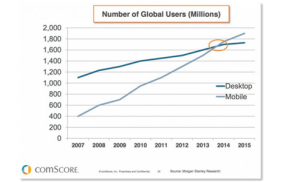 Sources:
http://yourstory.com/2015/07/mobile-internet-report-2015/
http://www.smartinsights.com/mobile-marketing/mobile-marketing-analytics/mobile-marketing-statistics/
http://www.business2community.com/mobile-apps/instant-messaging-apps-future-mobile-internet-01313577#13vcYpLLgq7wCBx5.97